Yes, the color is "Planetary Green" a unique color with a special paint from (House of Kolor) that has proven to be very hard to lay down. Not long ago there was a car show in Idaho where this truck took number one for paint out of about 1200 entertainers. When the restoration started this was an old $100 farm truck that had seen its share of work. A complete frame off restoration was to be done and I mean every square inch was attented too. The old suspension was replaced with a Volare front end, a 350 Ram Jet engine with a 700R4 transmission and a custom built exhaust system. Ron Tesinsky, a professional craftsman designed the consol adding a pearl inlay grip to the Lokar shifter. This pickup has real leather to top off this gem.
There was something special about the 1956 Ford pickup that made it special. yes, it was very well built to take the work load that would be required of it on the ranches and farms. It was a good looking truck with its new set back front axel and styling which gave it a nose heavy look. Safety was becoming an up front issue in the automotive industry and Ford was at the front of the line. Items like energy absorbing steering wheel and double grip door latches and an up-grade to 12 volt electrical system. If you were wanting a full rear window it would only cost you $16 more. The dash board sported a car-derived hooded instrument panel. With a base price of about $1589 we should have purchased several of them. The outlook for the collector of these trucks ranks very high, you can't get any better than that.
Current owner, Don & Marilyn Brocopp Billings, Montana
Car Hobby Divided on Vintage Vehicle Bills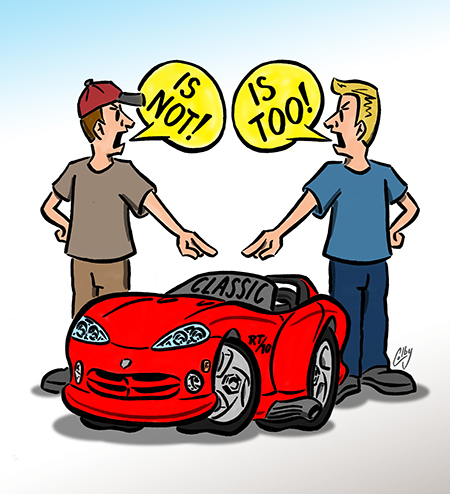 When it comes to older vehicles, the adage "one person's trash is another person's treasure" certainly applies. The variety of tastes within the automotive hobby ensures that just about any car or truck is desired by someone. In addition, the value attached to each four-wheeled specimen changes over time. However, because a car may be rare doesn't always mean that it is valuable. Many other factors, including current condition, prior refurbishment, pedigree, special options, limited packages and more must be considered as well.
After more than 100 years of automotive innovation, identifying factors that have earned certain vehicles "classic" status is increasingly relevant. A leading authority in the collector car community, the Antique Automobile Club of America, allows all vehicles 25 years old or older to be officially judged at national meets. In many states, vehicles that are 25 years old and older are eligible to receive a variety of benefits and accommodations. At the federal level, the Cash for Clunkers Program spared cars 25 years old and older from the scrappage heap and expanded parts recycling opportunities. Long-time readers will remember the SEMA Action Network's (SAN's) role in securing that amendment to the law.
Earlier this year, the Maryland and Nevada legislatures introduced legislation attempting to redefine which rides qualify for specialty registrations. Under the Maryland bill, the age requirement for vehicles eligible for registration as "historic motor vehicles" would have been raised from 20 to at least 30 years old. The law currently provides these vehicles certain benefits, including an historic license plate, reduced registration fees, and exemptions from equipment and emissions inspections. In Nevada, under pending legislation, only vehicles manufactured prior to '96 would be eligible for "classic vehicle" registration, denying future classics the opportunity to ever achieve this registration status. Currently, vehicles 25 years old and older are eligible. A separate bill to repeal the emissions test exemption for all classic vehicles, classic rods, street rods and old timers is also on the table. Under that bill, all vehicles manufactured before '96 would instead be exempted, meaning that all '96 and newer vehicles would be emissions tested for life.
| | |
| --- | --- |
| | |
| | One look at the BMW M3 above makes it tough to believe that this very ride is now 25 years old. For years, this model has garnered an enthusiastic following of car fans. The uniquely painstaking task of adapting modern technology into this particular vehicle, including a 6.2L GM V8 powerplant, was undertaken by owner/builder Kevin Byrd. |
| | --- |
These measures, and others like them, are the result of specialty registrations being granted to vehicle owners that "abuse" the privilege. You know what they are—daily drivers, commercial trucks and otherwise poorly maintained autos wearing a specialty tag. Supporters argue that these efforts attempt to restore the designation's inherent value. Most laws limit use of these cars and trucks to participation in car club activities, exhibitions, tours, parades and occasional pleasure driving. Many abusers commonly seek refuge in these designations after failing the required emissions test, diluting these categories with cars that the law was not intended to protect.
On the flip side, opponents believe that these proposals are not favorable to enthusiasts and make it more difficult to register legitimate historic vehicles. Over the past several legislative sessions, Marylanders have fought to retain the historic vehicle definition against restrictions that are based on unsubstantiated claims of abuse. The Maryland Motor Vehicle Administration is already authorized by regulation to suspend the registration of any historic vehicle for use that violates the law. The state also seems focused on collecting additional registration revenues at the expense of collector-car owners. Further, the population of these vehicles is still not enough to cause any significant smog issue in either state. It has been shown that classic vehicles currently constitute less than 1.6 % of the total vehicle population in Nevada!
| | |
| --- | --- |
| | |
| Now approaching age 25, cars such as this '93 Chevrolet Camaro Indianapolis 500 Pace Car are destined to become collectibles. | |
| --- | |
The SAN has chosen to oppose these bills in order to safeguard the greater good. SAN member Ramzi Vincent boiled down the issue in a letter to Maryland lawmakers: "Why penalize the many for the crimes of the few?" As an organization, we have always recognized the fact that the automotive community as a whole forms a diverse constituency. We believe that nobody's taste in cars and trucks should be compromised by legislation to the extent possible. The hobby will be best served by demonstrating that we share common goals and that we can work together to ensure that these designations will be available to younger enthusiasts entering the hobby in the years to come.
Only time will tell the outcome of these battles. Fortunately, Maryland's bill died when the legislature adjourned for the year. However, the fate of Nevada's proposals is still undecided at the time the Driving Force went to print. Courtesy SEMA ACTION NETWORK

—Cover illustration by Colby Martin
U.S. Congress Introduces Bill to Reform Ethanol Mandate
Legislation (HR 704) has been introduced in the U.S. House of Representatives to prohibit the sale of E15 (gasoline that is 15% ethanol) and eliminate the federal Renewable Fuel Standard's (RFS) mandate that 15 billion gallons of corn-based ethanol be blended into the U.S. fuel supply each year. The EPA has turned to sales of E15 to achieve the law's artificial mandate. Ethanol, especially in higher concentrations such as E15, can cause damage to older vehicles.
Please Contact Your Member of Congress (contact information below) to Request Support for HR 704
Ethanol can cause metal corrosion and dissolve certain plastics and rubbers, especially in older vehicles that were not constructed with ethanol-compatible materials.
HR 704 would eliminate the unrealistic mandates imposed under the RFS such as requiring refiners to blend 36 billion gallons of biofuels by 2022.
HR 704 would prohibit the sale of E15 gas in order to help meet the artificial RFS deadlines.
HR 704 would protect older vehicles from the risks posed by E15.
DON'T DELAY! Please contact your Member of Congress in Washington, DC immediately to request their support for RFS reform. Please email a copy of your letter to Eric Snyder at

erics@sema.org

. Also, please forward this Alert to your fellow automotive enthusiasts. Urge them to join the SAN and help defend the hobby! Thank you for your assistance.
Click here to find your U.S. Member of Congress
---
Collector Car Appreciation Day -
Friday July 10
The SEMA Action Network (SAN) announced that the next "Collector Car Appreciation Day" will be celebrated on July 10, 2015. The date marks the sixth consecutive commemoration in what is now an annual event to raise awareness of the vital role automotive restoration and collection plays in American society.

Intended to celebrate the classics of the past and the future, the U.S. Senate helped launch Collector Car Appreciation Day (CCAD) by passing Resolutions each year at the SAN's request. The previous resolutions were sponsored by Senator Jon Tester (D-MT), Senator Richard Burr (R-NC) and Senator Mark Begich (D-AK). The Senators have been strong advocates for the automotive hobby in Washington, D.C., and recognize the integral role collector cars have played in fostering our nation's appreciation for the automobile's unique historical place in our history.
Click Here for more Information
Courtesy SEMA Action Network
---
CAR JOKE OF THE MONTH
A shapely young blonde girl in her late teens, wanting to earn some extra money for the summer, decided to hire herself out as a "handy woman" and started canvassing a nearby well-to-do neighborhood. She went to the front door of the first house and asked the owner if he had any odd jobs for her to do.
"Well, I guess I could use somebody to paint the porch" he said. "How much will you charge me?"
Delighted, the girl quickly responded, "How about $50?"
The man agreed and told her that the paint, brushes and everything she would need were in the garage.
The man's wife hearing the conversation, said to her husband, "Does she not realize that our porch goes all the way round the house?"
"That's a bit cynical, isn't it?" he responded.
The wife replied, "You're right. I guess I'm starting to believe all those dumb blonde jokes."
A few hours later the blonde came to the door to collect her money.
"You're finished already??" the startled husband asked.
"Yes" the blond replied, and I even had paint left over so I gave it two coats."
Impressed, the man reached into his pocket for the $50 and handed it to her along with a $10 tip.
"Thank you" the blond said, "and by the way, it's not a Porch, it's an Audi."
---
INTERSECTIONS
By Dave Searle Editor in Chief Motorcycle Consumer News
MY SCOUT TROOP once spent a day counting cars at intersections in our old town center, so the traffic lights could be correctly timed for the volume going in each direction. And I guess I've had a keen appreciation for the traffic planner's job ever since. In the little beach town where I live now, which is subject to very heavy weekend and summertime tourist traffic, it's often easy to catch a red light every half-mile or less, turning a five mile cross-town distance in 20 minutes or more of stop-and-go aggravation. This naturally encourages speeding by the locals who've seen all the sights before, mounting frustration with dawdlers, and occasional attempts to beat the yellows—not good for safety. And, of course, none of the lights are "smart" enough to know when there are no drivers waiting at one or more directions, so we all wait while the light goes through its preprogrammed sequence, clearly timed for heavy traffic flow, oblivious to reality.
Worse, the downtown light that controls the heaviest traffic will regularly lose its synchronization with another light just a block away, so that block fills with cars, the intersection jams up and the resulting backup can extend down the canyon for nearly a mile. Too bad the CalTrans officials responsible can't hear the resulting shouting and honking, but I now have their names and phone numbers (call your city officials). Tip: After weeks of repeated pleas for help, saying you're going to call the Mayor if they don't fix it immediately got a same-day response.
I'm sure we each have personal examples of traffic light headaches, like sensors that can't recognize a motorcycle, greens that only last for seconds, etc., but consider that a superior alternative to "dumb" traffic lights already exists—roundabouts. First, a word about what is and what isn't a roundabout. Although much larger "rotaries" and "traffic circles" (think Paris' Place L'Etoile, around the Arc de Triomphe, Thomas Circle in Washington, D.C., or Columbus Circle in Central Park)have been built since 1877, the "modern roundabout," as the DOT defines it, was designed by Frank Blackmore of the UK's Transportation Research Laboratory in the 1960s. Distinguished by its much smaller size and radial entry roads, these mini roundabouts require traffic to slow to 15–25 mph, circle counter-clockwise (in countries where people drive on the right), and give priority to vehicles already in the roundabout, in contrast to traffic circles, where traffic enters at high speed on a tangent to a large circle, changing lanes to exit, which can be very chaotic. In fact, accident statistics show that large traffic circles are not particularly safe, and the UK-style mini roundabout has become the favored design worldwide. The town of Summerlin, Nevada, built the first one in America in 1990, but they have quickly proliferated across the country.
Consider the advantages: The basic roundabout controls traffic without requiring vehicles to come to a stop. Remember, a car idling at a light is getting exactly zero mpg, making heat and smog, and while stopping completely uses more brake pad material, acceleration from a stop requires more fuel than simply slowing. As a result, studies show that pollution is greatly reduced: CO by 15–45%, CO2by 23–37%, NOx by 21–44%, and hydrocarbons by as much as 42%. And because roundabouts don't create unnecessary delays, studies show they improve fuel consumption by 23–34%, while speeding traffic flow by 13–89%. Is there a less painful or less expensive way to reduce our collective "carbon footprint?"
And if those statistics aren't impressive enough, consider that roundabouts have an even greater benefit on safety. Every MCN reader knows how dangerous traditional intersections can be and how left turns across a rider's path create the most serious accidents. Imagine a light-controlled intersection with just a single lane in each direction: With left turns, right turns and straight ahead traffic possible in each direction, there are 32 potential contact points, many of which are head-ons and T-bones at high speed. By comparison, the roundabout has only eight, and most accidents are side-impacts at shallow angles. A U.S. statistical sample shows that roundabouts generate 39% fewer collisions, 76% fewer injuries, and 90% fewer serious injuries and fatalities than traditional junctions.
Plus, there are additional benefits: U-turns are easily accomplished, roundabouts are quieter in operation as the need for heavy acceleration is reduced, they can be cheaper to build and maintain than a traffic light-controlled intersection, and they don't need any more space to construct (multi-lane roundabouts are typically less than 250 ft. in diameter).Pedestrians are also safer. Crosswalks are usually placed at least one car-length outside the circle, to reduce slowing inside the circle, and pedestrian islands positioned between the inbound and outbound lanes add visual clues for drivers as well as provide a safe place for pedestrians to stop mid-crossing, so they only need to keep an eye on traffic in one direction.
There are two other effects that get my personal approval, although you can't find statistics on them. One is that roundabouts don't force traffic to stop and line-up, so that if you happen to beat the back of the pack, your progress is not determined by the driver ahead with the slowest reaction times or most distractions. This bunching effect makes traffic much more dangerous as well, as everyone is more vulnerable to the mistakes of a single driver, and accordion-type impacts that can catch trailing drivers unaware are common. By comparison, roundabouts allow traffic to spread out, and every motorcyclist knows they are safer when they have space around them to maneuver, rather than play the potential meat in a metal sandwich. Although California motorcyclists can take advantage of lane-sharing, slipping to the front of the line at lights to gain this advantage, everywhere else, riders don't have this option and are at the mercy of surrounding drivers.
Lastly, roundabouts are fun on a motorcycle. The brief slowing, quick flicks of the steering and burst of acceleration make negotiating a roundabout even faster and easier on a bike than it is in a car, and isn't that what riding is all about?
Reprinted by Permission of Motorcycle Consumer News
---
Wyoming Single License Plate Signed Into Law
Wyoming Governor Matt Mead signed into law a bill (H.B. 74) to provide for the issuance of a single license plate for motor vehicles that were "originally manufactured without an installed bracket, device or other means to display and secure a front license plate." The new law also specifically allows antique vehicles to display a single plate and allows all custom vehicles, not just those manufactured prior to 1968, to display a single plate. The new law will take effect on July 1, 2015. Thank you to those that participated in supporting this bill!
Courtesy SEMA Action Network
---
THE LAST OF THE BREED?
By Monty Wallis
For "car guys" cars are more than a hobby. Finding, fixing, rebuilding, tinkering are just part of life. If you're one of those who really lives classic cars, you've got to wonder about the future of the hobby. Let's face it, most of today's cars (or tomorrow's classics) don't have what it takes. Most are small, boxy and lack that individualism that made yesterday's classics into the icons they are today. Fuel efficiency and high mileage have taken over from style and individuality.
Plastic is in and sheet metal is out. Today's engine compartments are so crammed with restrictive components that there is no way most of us can even work on our own cars. Computers and black boxes have taken control and a backyard mechanic with a set of wrenches and hand tools just won't cut it.
Sure, you can still find classics to work on, but it gets harder and harder to find those cars that have potential. What happens down the road when cars from the 50's, 60's, 70's and 80's are no longer to be found? Detroit has tried to resurrect style points from the past in the new Challenger, Mustangs and other models. They've been popular and sell well. But Washington seems to want all of us in look-alike, boxy roller skate versions that get 40 plus MPG and create no emissions.
Remember when it was a big deal when next year's models were introduced? Now, a 2015 looks just like a 2014, and you really can't tell the make and model without looking at the name tags. Certainly, cars today are faster, more dependable, easier to drive and park. They ride better and corner better. In so many ways they are superior to the classics we cherish. But for everything we've gained, take a look at what we've lost.

---
Are you planning on restoring
These are the 6 steps you will encounter in the coming months to complete your project .....

5. Punishment of the Innocent
6. Praise & Honors for the
Federal Legislation Would Require Study of Recreational Off-Highway Vehicle Rule
Legislation (HR 999) has been introduced in the U.S. House of Representatives directing the National Academy of Sciences (NAS) to conduct a study on requirements proposed by the Consumer Product Safety Commission (CPSC) for recreational off-highway vehicles (ROVs). The proposed CPSC rule includes restrictive lateral stability and vehicle handling requirements that could potentially limit vehicle use. The NAS would study whether the requirements are necessary or actually undermine ROV capabilities and intended uses. The bill would postpone further action on the CPSC's proposed rule pending the analysis.
Please Contact Your U.S. Representative in Congress (contact information below) to Request Support for HR 999
ROVs are currently subject to an industry standard developed by the American National Standards Institute (ANSI) and the Recreational Off-Highway Vehicle Association (ROHVA), and supported by the SAN and many other organizations and companies.
HR 999 would place a hold on a proposed mandatory rule issued by the CPSC pending a study by the NAS.
HR 999 recognizes that the industry standard has been effective at protecting riders.
HR 999 recognizes that an industry standard allow more flexibility than a government mandate for future design changes to safely provide the level of performance that is expected by ROV enthusiasts.
DON'T DELAY! Please contact your U.S. Representative in Washington, DC immediately to request their support for HR 999. Please email a copy of your letter to Eric Snyder at erics@sema.org. Also, please forward this Alert to your fellow ROV enthusiasts. Urge them to join the SAN and help defend the hobby! Thank you for your assistance.
Montana At-Large District
Ryan Zinke (Rep)
---
Texas Reintroduces Bill to Tax Cars for Miles Traveled
State governments, looking for new ways to collect revenue in the wake of increasing costs and diminishing revenue are increasingly looking at mileage taxes. Your state may be next. Legislation (H.B. 151) to impose a vehicle miles traveled (VMT) tax on motor vehicles that travel 5,000 or more miles a year has been introduced. The VMT tax will be calculated by charging 1 cent per mile driven during the inspection period minus the estimated fuel taxes paid by the vehicle's owner. The actual VMT would be measured using an annual odometer inspection. The bill will be considered by the Texas House Ways and Means Committee.
We Urge You to Contact the House Ways and Means Committee Members (List Below) Immediately To Request Their Opposition to H.B. 151
H.B. 151 would impose its harshest penalties on owners who rely on their vehicles to drive long distances to and from places of employment.

H.B. 151 penalizes national efforts to create a more fuel efficient vehicle fleet. As gas tax revenues decrease due to hybrid and electric vehicle ownership, states are looking for new sources of funding for pet projects.
DON'T DELAY! Please contact members of the Texas House Ways and Means Committee immediately by phone or e-mail to request their opposition to H.B. 151.
Please e-mail a copy of your letter to Steve McDonald at stevem@sema.org. Also, please forward this Alert to your fellow car enthusiasts. Urge them to join the SAN and help defend the hobby! Thank you for your assistance.
Texas House Ways & Means Committee
To e-mail all Committee members, copy and paste the email address block below:
dennis.bonnen@house.state.tx.us; yvonne.davis@house.state.tx.us; dwayne.bohac@house.state.tx.us; angie.button@house.state.tx.us; drew.darby@house.state.tx.us; Trey.Martinez.Fischer@house.state.tx.us; jim.murphy@house.state.tx.us; Tan.Parker@house.state.tx.us; Drew.Springer@house.state.tx.us; Chris.Turner@house.state.tx.us; john.wray@house.state.tx.us
Courtesy SEMA Action Network
---
Putting the show back in "car shows"

By Monty Wallis & Duane Demars
It's that time of the year again, when car clubs and organizations plan for their events. Dates are set…committees are formed and that same old question pops up. What can we do to make our event more successful?
When you stop to think about it, most car shows are pretty much the same with rows of cars, trophies, concessions and spectators. One show looks pretty much like all the others. So what can set your show apart from the rest and attract more people.? Well, let's start with location. Is there a place that would make your show stand out? Rather than a parking lot, would a park or golf course make it more attractive? Or indoors at a mall or large building? Maybe outside at a lake or river park? A local museum may be a great location. Race tracks are a great location to hold a car show.
What about a tie-in with a local business? A local car dealer may jump at the chance to display his latest models at your show and provide advertising to attract more people. Many car dealers are classic car guys and are eager to show their cars and support the hobby. Your local radio or TV station is always looking for a new promotion, and may be willing to sponsor your event in return for joint naming rights and sponsor participation. Local bars and clubs are prime targets for joint events.
Look at inviting special guests and local dignitaries can add to the fun. Think about saluting a local hero as a theme, or making local vets a part of your event. Almost every community has a man or woman who has played a major role in some way in the automotive world.
Swap meets held in conjunction with car shows are always popular. Invite body and paint shops that specialize in restoration; parts houses and suppliers, upholstery shops and tune-up centers. Even your local classic car friendly oil change shop can bring something to your event. All can offer prizes, demonstrations and their own classic cars and trucks. Insurance companies that write classic car policies are also a possibility.
And last but not least…make sure your event is well promoted. CMYRYD.COM is the only on-line source for a complete annual list of car shows in Montana and Wyoming. Be sure to go to the events page to register your show. Remember, the secret to success is making your show stand out from the rest.
---
For a motorcycle driver, one of the worst sounds in the world is that of tires screeching on the pavement behind you. And for anyone who's spent any time on their bike, it happens more often than we would like to admit. Let's face it…people just don't see motorcycles like they see cars. And that's especially true when a motorcycle slows down unexpectedly, usually by compression braking first, then regular brakes. It can happen on the interstate or on a city street, and when its car verses bike…the bike always loses.

That's where a new safety device may make the difference between going home… or going to the hospital. It's called VoloLights… an enhanced motorcycle visibility device built into a license plate frame that senses when your motorcycle starts to slow down. It does not replace your brake lights…it's used in addition to brake lights. When a motorcycle starts to decelerate from downshifting there are no brake lights just like when a car with a manual transmission uses its engine compression to slow down. When Vololights senses deceleration, two different flash patterns alert drivers behind you, whether it's normal deceleration or emergency braking. This earlier indication can provide drivers that extra second or two to reduce the risk of rear end collisions.



Here's how it works…Vololights is a powered license plate frame with its own set of bright LED's. Using internal microprocessors, it measures the deceleration of your motorcycle regardless of the rate you are slowing down. Today's brake lights are not always perceptible. For instance, a driver behind you might see your brakes solid or flashing but they cannot tell whether you are 'tapping' on the brakes or slamming on the brakes. Vololights solves this problem by varying its flash rate with the urgency with which you are slowing.
If your rate of deceleration indicates a normal braking scenario, two rows of four red LEDs will flash alternately at a rate of two times per second. This alerts drivers to the fact that your motorcycle is slowing down. But if you decelerate very quickly, the lights will flash five times a second. The urgency of this flash setting alerts drivers that they have to react quickly to avoid an accident.
Contained within the Vololight frame are eight red LEDs, a microprocessor, and an accelerometer. A white LED also provides continuous illumination of your license plate. Vololights recently upgraded their onboard firmware to include more sensitivity settings. They include:
Touring: This is the most sensitive setting, good for large touring motorcycles or those with automatic transmissions.
Default: Good all-around sensitivity for a broad range of motorcycles and riding styles.
Sport: This is the least sensitive setting, good for motorcycles with lower gearing or riders with more aggressive riding styles
Earlier this past year, CMYRYD purchased a Vololights directly from the manufacturer. Our intent was to see if the product lived-up to its claims. After several months of testing on the streets and highways of the great Northwest, I'm happy to tell you that it works as promised. You may want to check your state's motor vehicle laws to be sure that this system does not conflict with lighting code. In Montana, a check with a local MHP officer gave us the green light and a comment that anything that prevents a rear-end collision with a motorcycle was OK in his book.
The unit is easy for the average do-it-yourselfer to install and takes its power directly from your motorcycle's license plate light circuit. The LED's are bright enough to be visible during daylight, but not so bright as to be totally distracting to drivers at night.
But they are noticed by drivers behind you. On more than one occasion during our tests, drivers pulled-up beside us at traffic lights to inquire about the lights. In most cases, these were fellow bike owners who were interested in safety. The Vololights system was unusual and bright enough to gain their attention and interest.
Our tests used a Vololights system on both two-wheeled and three-wheeled bikes. It performed as promised after being correctly installed and calibrated using the easy instructions and a calibration magnet which was included by the manufacturer. Vololights units are available at the limited number of retailers across the country as well as Revzilla.com and Motosport.com. I've also spotted the units on Amazon.com and on the company website at vololights.com.
If you are a motorcycle rider and riding safety is important to you, this may be one purchase that you'll want to make, and it would be a great Christmas present for any rider. By the way, this technology may hold future promise for four-wheeled transportation safety also.

CMYRYD Goes to SEMA
or..."My Bucket List" by Monty Wallis





For years, one of the destinations on my bucket list has been SEMA Show in Las Vegas. If you're into cars, SEMA is the premier venue for everything auto. So, thanks to CMYRYD, I got the chance to go, and I've got to say, it was even bigger and better than I had imagined.

First, it was absolutely huge. The exhibits and show took up the entire Las Vegas Convention Center; and a few blocks away the companion AAPEX Show in the Sands Convention Center utilized every floor of that large complex. If anything, it was overkill. There is no-way anyone could visit every booth, display and event during the length of the show. There were display areas for first time exhibitors, collision and repair, mobile electronics and technology, car care accessories, tools and equipment, racing and performance, restoration, trucks, SUV's and off-road, utility vehicles, tires, wheels and accessories and more. The GM Proving Grounds gave convention goers the opportunity to demo the latest offerings from General Motors under high-performance conditions. And FMC was well represented with displays of high performance drivers and FORD vehicles doing drifting, Gymkana and autocross demos.

If you wanted to see some of the best classic and custom cars in the world, you wouldn't have been disappointed. Over 500 of the world's most spectacular custom cars were on display throughout the venue. For classic lovers, over 2000 classic cars and trucks were displayed both outside and inside the event. Then on Friday night, the SEMA Cruise featured over 2000 classics simultaneously rolling out of the convention center to officially close the show.

TV Stars? You bet there were stars. Overhaulin's Chip Foos was there signing autographs as well as Courtney Hanson and other automotive stars from Cable's Velocity channel.

If you went to SEMA to find a particular product or service, you would not have been disappointed. It might have taken you the full week and two pairs of walking shoes, but it had to be there. Over at the AAPEX show, an entire floor was dedicated to overseas automotive products, categorized by country. Yes, China was well represented.



If I have any complaint about the show, it's perhaps too much of a good thing. Shin splints and blisters were very much a part of the experience. I will say it again…this was a huge event. Only Las Vegas could host an event of this size. And Las Vegas may be part of the problem. $8.00/ plus tax for a Bud Light was not uncommon. And it would be nice if the Mono Rail actually stopped at the Sands Convention Center. That said, there were free shuttles between the official hotels and convention center.

So, if SEMA has been on your bucket list, I'd say the 2015 show should be a great one. Be sure to be ready to walk for miles and endure the crowds of tens of thousands of car lovers from across the world. But be ready for the world's largest car event.