Ed Randash of Billings, Montana Passed away of natural causes. He was known as a premier classic car collector and builder of award winning cars. Our prayers go with you Ed.
1926 Ford Model A

It may not look like the famous "A Henry Ford Model A." This one has been tweaked out. Who would have ever believed 89 years later we would be savoring this car that sold new for $350. This car has been transformed into a true hot rod. Modern suspension, a Chevy small block lots of other goodies. In 1926 this car was transformed in a Roadster Pickup, a 2 door Roadster and a 2 door Coupe, and yes even a tractor. A quote from Henry Ford "I will build a car for the great multitude. It will be large enough for the family, but small enough for the individual to run and care for. It will be constructed from the best materials, by the best men to be hired, after the simplest designs that modern engineering can devise. But it will be so low in price that no man making a good salary will be unable to own one-and enjoy with his family the blessing of hours of pleasure in God's great open spaces."

The body's on these cars were steel with wood used for the pillars along with other parts. When you use wood in production you are going to have a lot of scraps left over. Henry Ford had a plant called "Ford Charcoal" His brother-in-law E.G.Kingsford brokered this selection and changed the name to "Kingsford Charcoal"
Owner : Truman Rogers Billings, Montana
These are coffee table books to bring back memories of our past. Every car has a story to tell, that is what we have done. Books are top quality in every respect.
We hope you will enjoy them. Click on the "Shop" link and use Pay Pal




You may also call Duane Demars 406-855-4422 to get a signed copy.






Rare Cadillac debuts at Burn the Point
Al Giddings is back, this time with an eye catching Cadillac at the 2015 Burn the Point Car Show. Story and video courtesy KTVQ.com Click here
---
2015 is now in the record books as one of the most successful car shows and parade to date. The Chase Hawks Memorial event went off with out a hitch with a total of 548 cars in the parade. To my knowledge no one had their cars overheat, which is a first. We had cars from several states and one from as far away as Texas. Major Dan Miller was at the mike and has become an icon in the field of broadcasting. The parade took just a little over two hours to make just one complete circle of the parade route. There were up to 25,000 watching this annual event. There were many cars that debut for the very first time after a long restoration for many.
The following morning the cars started set up at about 6:AM at the Metra on the grass. A large number were also very busy getting ready for the swap meet which turned out to be one of the best ever. There were everything from old cars that needed major restoration to repair manuals and everything in between. The Classic Car Auction which was held on the Metra grounds went over with great fan fare and sold to buyers from far and wide. In addition to great food, Wilcoxen Ice Cream and Pepsi were some of the largest supporters. They even had a Bungie Jump for the kids. I don't have a number on those who came to the show, however it was large. Over 110 trophy,s were sponsored by local business.
By Duane Demars

The ALL EURO CAR SHOW was held in Veterans Park in Billings, Mt., Aug. 25th.
It drew cars from Colorado, Wyoming and all parts of Montana. It was sanctioned by "Porsche of America" and the "Absaroka Region." This show is only eight years old. When it first started out, they had only Porsche cars. The show was very small as the number of Porsche cars were few at that time in Montana. After just six years they tried only German cars, only to find there were just a handful of these great cars. Lesson learned. They have expanded the show to include all European cars. This was the turning point for a great show. There were Jaguar's, Fiat's, Porsche's, Riley's, Mini Cooper cars and a rare Mini Cooper pickup. There were two MGA's that were the cream of the crop. The owner's who were brothers each drove an MGA and an MG Midget from Denver and were hoping for dry weather as neither had a top for their cars. Mars Automotive products of Moore Lane in Billings had a great display. They worked very hard detailing these expensive cars showing the quality of their products. Good food and a chance to renew old friendships were abundant.

---
Dream Cruise Reunion For a 'Vette and an Owner
By: Paul Stenquist
The Woodward Dream Cruise, an annual automotive festival in Metro Detroit that draws about a million spectators and tens of thousands of hot rods, muscle cars and classics, is a consistent source of feel-good stories. Perhaps the best from this year, the event's 21st edition, was that of George Talley and his silver Corvette.
On the morning of the cruise, General Motors presented Talley with the keys to a 1979 Corvette – his own car, which had been stolen in 1981, recovered 33 years later and then refurbished this year.
Talley, 72, a former GM employee who has owned four Corvettes, said that he never expected to get the car back after thieves swiped it off the street decades ago. But in June 2014, authorities in Michigan noticed that two Corvettes were registered under the same vehicle identification number, one in Mississippi and one in Michigan. The Mississippi Corvette's engine number revealed it to be Talley's long-lost car. When told that the car had been found, Talley said, he thought it was a joke.
The story attracted press attention, and Talley was interviewed on a Detroit radio station. Mark Reuss, GM's product development chief, heard the broadcast and offered to ship the car back to Detroit.
Reuss was true to his word, and the car was returned to Talley. But with a destroyed interior, bad brakes and serious corrosion throughout, it was not the car Talley remembered. Nevertheless, he drove it a bit before putting it in storage for the winter.
"This past spring I wrote a letter to Mark Reuss and asked him to help me restore it," Talley said in a phone interview. "I'm retired; I wanted it to be safe and look good."
GM again came to the rescue. The car was taken to the automaker's Heritage Center in Sterling Heights, Mich., in June. There, the facilities manager, Greg Wallace, treated Talley's Corvette to a makeover. GM management asked Wallace if he could have the car ready for the Dream Cruise on Aug. 15. It would prove to be a challenge, given the car's condition.
"It appeared to have been underwater at some time," Wallace said. "It had weird rust, including a rotted-out ashtray and cigarette lighter. The brake lines were badly corroded, as were the steel door bottoms. The interior was shredded and water-damaged."
Wallace and his crew buckled down to the task. All of the brake components were replaced, as were the tires. A new interior was installed, and the engine was cleaned, painted and tuned. Autometrics of Centerline, Mich., painted the body and buffed it to a shine like it never had before.
Two months of 16-to-20-hour days had the car ready to be unveiled on Dream Cruise Saturday, and it spent much of the day in the Chevrolet exhibit, though Talley managed to put a few Woodward Avenue miles on it as well.
"I think you have to give back," Reuss said in a video that Chevrolet posted on YouTube. "He's been a customer of GM forever and a veteran."
Talley, of course, is most appreciative. "It's brand new," he said. "To have a brand new '79 car is phenomenal. It's hard to describe, but I'm happy."
Reprinted by permission of Hagerty.com
Restoration Part #3

By Duane Demars
If you have a son or daughter to help you with this project you are among the luckiest parents in the world. This can be the greatest father, son or father, daughter time you will ever have plus they will respect what they helped build. The body will be the most challenging part of the whole restoration. Let's talk glass for a moment. Cars produced between 1904 and 1919 did not have safety glass. In a collision, the shattered glass would cause serious facial cuts. The term "glass necklace" was common when an accident occurred. Older cars had problems with the plastic between the layers yellowing- there is not any solution available other than replacement. If you are doing the body yourself, don't get discouraged. Remember, it's just a piece of metal and you have control of it. I have spent days on just one fender, sat back and felt I had it as good as it was possible. Yes I was proud of myself only to have a good friend who is a body man rub his hand over it and tell me there is still a lot of work that has to be done. I just swallowed my pride and asked him to do his magic. Every new weld must be sanded taking special care to look for any weak spot that must be addressed. If at this point the body is ready for the next big step you will want to talk to the person who will be the one to shoot the base material. The primer you apply is the foundation for how your dream machine will look. Good primer and its application will not be cheap to apply and will also take many hours of sanding. Safety must come first, with the sanding dust being so fine you will have to wear a good face mask. Consult your



local automotive paint tech for the quality of mask that is best to use. Look at it this way, if you are building a new garage for your classic ,the foundation must be laid right. Certain paints require certain types of primer. If the paint you will use costs $2000 a gallon you for sure are not going to use a can of $15 primer. Body mud over time will crack- it may take five years. This tells us to keep it as thin as we can. Remember there are different qualities of mud also, use the best. Now that we have a good solid foundation and we think we are ready for paint, go over every inch again. If you were writing a book you would get several people to proof read it before you go to print. Your car body is the same thing. Now is the time to see if anything else needs attention. At last you are ready for the paint booth, or are you? Make sure you have consulted the highest
authority as you choose the color. I found out the hard way. Now I ask my wife what she thinks of the color I chose. I will give her the colors I like and then negotiate from there. It works every time and I end up with a happy camper and most of the time the color I wanted from the start. Now with the body and front clip painted we now can see light at the end of the tunnel. Now is a good time to check and see how the seats are coming along at the upholstery shop. Make sure you have plenty of help as you place the body back on the frame. The last thing you want to do is get a scratch or dent on the body now. The next step will be to add a self sticking noise control material every where you can. If you were to buy a new car you would expect it to be very quiet- your classic should not be any different. Noise insulation will cost you a few bucks. Remember, now is the only chance to protect against heat and noise at the same time. Some high quality materials are Hushmat, Dynamat and Second Skin. The cost may run as high as $300 yet may be the best investment you will make in the long run. Another step completed. Now, for the installation of the glass. You don't want to skimp on the rubber seals. And you don't want to use force with the glass as you will be kicking yourself all over the place if you crack it. The one thing that I hate most of all is having to wire the entire body. Some people try to save money and time by patching old wires and replacing only what they have to. This is a bad idea as many a car has gone up in flames do to old wires shorting out. Several companies produce color coded wire kits which make it a little easier to install. Take special care to make sure adequate ground wires are secure to the frame. Almost all the time electrical trouble can be traced to grounding. Only a small amount of wiring must wait till after the front clip has been bolted into place. Once the doors have been hung, deck lid bolted and secured and the hood installed you can sit back and enjoy what you have done up to now. You may want to have a well known upholstery shop install the head liner or the convertible top as they are hard to do. How long has it taken up till now? Two years and enough money to build your wife a new kitchen! Never fear, it is better invested than the stock market and you can keep it in your garage.
Now you should be ready to install your gauges and all the dash parts. With the head liner in you can install the door panels, seats and finish off a consol if you have one. I hope you marked where the bolt holes are for your seats, it does make it easier. Remember back when you started and it looked like a disaster? Your wife said you were crazy. Congratulations, now you can point with pride and say "I did it" my way. By the way honey, do you want a ride!!



Restoration Part # 2

By Duane Demars
By Duane Demars
Author & Photographer
There is a formula for the amount of money spent on restoring a classic car that is based on your age. Remember this is not set in stone as everyone is different. At the age 20= $10,000, age 30= $20,000, age 40=$30,000, age 50=$40,000 to $50,000, age 65= $60,000 and up, many going over the $100,000 plus.

The car body now poses a major undertaking. There are certain steps to take so you do not have to repeat yourself. Remove the interior, seats, door panels, carpet and don't forget the head liner. Almost in every case the seats will need repair--you would too if you had been sat on for 50 years or so. After you remove the gauges you may want to have your old gauges refurbished to their original condition or you may want a custom made dash panel with digital gauges. I checked into rebuilding the speedometer on a '50 Chevrolet and the cost was $850.00. Whichever way you go, now is the time to take measurements of your dash on what you can use. It takes a while to get these so you may want to order them at this time. The cost may give you the jitters at first. On second thought it may give you the shakes! Just when you think you have the body all stripped down there are all the window cranks that must be removed and made to work like new. One option would be to consider electric windows and door locks. If you go this route, get the remote entry. The cost will be minimal. Many times the striking plates for the doors may be worn and have to be replaced or rebuilt. The glove box by this time has probably seen its better day. Once the glove box is removed you can get at the wiper motors and the control arms. If you still have the old vacuum wipers, get rid of them. Many cars will have stainless trim around the windows and doors and, yes, this must also be removed. This next step will be to take number # 400 steel wool to all your stainless trim. It may seem like it takes forever but it will come out looking like new. Let's take time to look around. What did we forget? Oh, yes, a sun visor may also be on your car and if you have one, it too, will have stainless trim that must be removed. Now that you have your items all placed in plastic bags the dome light, door handles, ash trays and all the instruments and knobs from the dash you may just be ready to place the body on a rotisserie. Remember only the body itself and not the front clip (hood, grill and fenders). You will have to do your math. The engine you plan to use may protrude into the firewall. In that case now is the time to address the problem. Being able to rotate the body lets you look for any rust that might be present. Patience and a lot of elbow grease will take up the next several weeks as you pursue perfection making the body better than when it was new. Many of the old bodies have wood in the door pillars and framework along with the roof braces. If this is your car you will have to replace it with hard wood for strength and to avoid future wood rot. Undercoating was not used very much in the early years, those who traveled on gravel and dirt roads would have it done to protect their cars from the elements. Outside of the rust pockets in the fenders, the floorboards had a tendency to rust through. Many of us can remember looking down at the ground in our first car or truck at the road as we



drove down the street or country road. The floor panels, if rusted through, can be replaced on many cars for an original look. Just cut them out and weld the new ones in. If you have to make them out of heavy tin, some body shops and machine shops can make ridges in them for strength. It seems that the trunks also have a tendency to rust as well. If the body is in real bad shape, sand blasting with a fine sand or salt will expose all your rust problems. Please don't try to just cover the rust up with body mud, in a short time the problem will be back. Once your rusty parts are taken care of, use a phosphoric acid "rust killer" solution. While all this is going on start stockpiling parts that will be needed. Get all your chrome done and locate items that must be replaced. Your local junk yard will become your best friend. In many cases a "downer car" will be the greatest source for parts that you will ever find. Many places that would re-chrome items have shut down due to government environmental laws. In the past several months, Billings, Missoula and Denver have been shut down. The next best solution is a new process called "spray chrome. " It is the coming thing. Body work and sanding will take several weeks if not months. Remember when most of these cars were new there were many flaws in the factory body work. Don't forget the wheels if you are going to keep them. You will need to remove the tires and sand blast them before using primer and paint. A good friend of mine takes every piece of the entire car apart, sands it down to bare metal, adds primer and paint to every part before it is reassembled. It's times like this that your photos come in very handy.
I will be back in about a week with number #3 of this series.
RESTORATION Part 1

By Duane Demars
By Duane Demars
Author & Photographer
| | |
| --- | --- |
| | "The truth, the whole truth and nothing but the truth" about restoring a car, pickup etc. Most car lovers at one point in time will take on the task of restoration. The question is do we really know what we are getting ourselves into. I must admit that I learned the hard way only to do it over and over again. Life will be easier restoring an American rather than a foreign car. I have done both and as for me I will stay with the cars made in the U.S.A. Let's start here. You have the car, now how deep are your pockets.? This will be the deciding factor to your degree of restoration. If your plans are to hire a shop to do the work for you there are two very important points that are a must. Number one: Do your research to get the most reliable shop and Number two: Establish a completion date by imposing a penalty for every day the work has not been completed. There have been numerous cases where cars have been in shops for years waiting for completion, |
you don't want to be one of them. Shops from time to time will work on your car for one day and then let it set for a week or two before coming back to it. This way they can have several cars to restore at the same time. Remember time is always on your side. The average time involved will be two or three years for most of us when we do the work. Before you even turn a wrench make sure that you have a clear title. If by chance you need a title, contact the highway patrol in your state, they will help you to get a sheriff's title. After filling it out the paper work, again call the sheriff or highway patrol. They will want to inspect the S/N before giving you a certificate for title. If it is over 25 years old you can get a vintage plate. Most of the time they will cost you about $10.00 to $ 25.00. Vintage plates never have to be renewed, the main restriction, it cannot be used as a daily driver. If you want to use an old plate from the 1930's your state will most always allow for you to use it. The next step is "vintage insurance". Several companies offer this coverage. The cost will average around $10.00 or $15.oo per thousand per year for full coverage. This will vary depending on your car and where you may live. Now that you have that taken care of the insurance, the real work begins.
| | |
| --- | --- |
| Most may plan to do a complete restoration, frame off using a rotisserie for the body. The use of a steam cleaner to remove all the grime and decades of grease are a must. The long task of dismantling now starts, but make sure you label every part and know where it must go when the job starts to go back together. A good way to do this is to take lots of photo's. Save every nut, bolt and washer you take off, place everything in plastic bags and label each of them. Do the same for large items like the suspension using boxes. Now that you have come this far lets take time to make a list what you will have to order from chrome, gages, brakes and suspension etc. One lady told me she got to know her UPS driver like a family member because he was at her house every few days delivering parts. Once the body has been removed you can start on the frame. We like the old cars and yet we want safety and the modern suspension for a good ride. There are two ways you can go. Rebuild what you have | |
with all new parts, you can add power steering and disk brakes for better stopping power. On some cars like a '50 Chevy power steering cannot be added, the solution is the new power steering unit built into the steering column. If you go this route now is the time to have a tilt wheel. The other option is to cut the frame at the firewall and weld in a Mustang II, Firebird, Volare or Fat Boy front suspension. Many companies offer these with the price varying by manufacturer. This way you have the modern front end for less money and also less work. With the frame now complete have it sand blasted before giving it a good enamel paint job. Now you can start adding shocks, brake lines etc. If you got a used frame clip from a car be sure to go thru the brakes checking all moving parts and replacing all brake lines with new ones. Now that your frame looks like a show piece, this is the time to dress up the engine that you will use with your transmission. If your engine has good compression you will still want to replace every item that could go bad. Once you have it on the road you want to rely on it like it was a new car. That means spark plugs, water pump, alternator, carburetor etc. If you plan to add air conditioning you will need a radiator with a good water flow. When you weld in your motor mounts make sure you get the right degree angle. This is critical for a smooth performance at all speeds. If you decide to eliminate your springs and install to air suspension keep in mind it is much easier when the body is off the frame.
At this time you may want to start hiding all the recipes for parts if you don't want your wife to know just how much this little project is costing you. When my wife found out she said (and I have had this kitchen for how many years) yes honey, how soon do we start …………….. Note: she got her new kitchen.
By the time you have accomplished all this you are well on your way. Part #2 of this article will follow in about a week.
Duane Demars, author and photographer
| | |
| --- | --- |
| | A bit of history in Montana & Billings serving the foods of yesterday as well as today. The "Kings Hat Drive-In" Billings, MT, "Dash Inn" Lewistown, MT, A&W Gillette, WY, "Top Hat" Livingston, MT, and "Ford's Drive in" Great Falls, MT to name just a few should have a Hall of Fame of their own. For all of those who grew up in the late 40's and beyond it was places like these that hold fond memories to this day. The type of service may vary from car hops, to drive up windows, and yes we got to know these young workers who always had a smile along with a friendly voice to greet you. For so many this would be their very first job on the road of life. |
Where it all began ----- back in 1949 when the Slovak family started they named it "Big Boy". However in the years to come had to change their name due to franchise copyrights. The name was changed to the "South Side Drive In." They spread their wings to open a restaurant on Broadwater Avenue and another on 27th Street which were sold years later. In '77 it was named "Kings Hat Drive In" with new owners Tom & Ailene Carr. The speakers were designed so the passenger had to order. Bad idea when only one person was in the car. Tom changed that. When they decided to retire after six years at the helm. Their daughter and son-in-law Cathy & Tim Gerard took over and the business grew by leaps & bounds. In 2010 they retired and sold it to Jim & Vicki Hodgson who are doing just great.
| | |
| --- | --- |
| "Kings Hat Drive In" is a crown jewel for those who want great food at a price they can afford. Located on 1st Avenue South, Billings. It was started over 60 years ago. The number of hamburgers served would undoubtedly be far greater than many times the population of Billings. When you are family owned and family operated you take care of your customers and never cut corners on what you serve to them. A good reputation takes years of dedication, service, and good quality control. Most importantly, respect for the people who work with you. Long before the days of "Romance Busters" known as bucket seats, every young guy would pull up to the speaker to order with his arm around his sweetie. It was a great place to show off both your girl and your ride. Times have not really changed that much. Yes she may have to sit on the console but love will always find a way. | |
| | |
| --- | --- |
| | At the "Kings Hat Drive In" the food is prepared the way that people want it such as their home made French fries. What they do is to start with about 200 pounds of potatoes for the day. Every one pulls K-P as we did in the armed forces, peeled them all by hand Next comes the use of an old fashioned potato slicer that gets them ready for the deep fryer. Jim & Vicki Hodgson do their very best to support our local agricultural farmers and ranchers. This way they know the quality will always be the best they can serve. If they support the community, the community will support them, as simple as that. As I prepared to do this story I had to spend time in their kitchen, as a retired food broker I was impressed with how clean things were and the excellent condition of their deep frying oil. When you are cooking all day you must also be cleaning all day. You may have to be on the job at 6 AM if that is when your food delivery comes. They rely on their food service salesmen to make sure their items are always in stock. You don't want to know what would happen if a popular item was not available. Around lunch time there will be about six or seven cars getting their orders, many people will call in ahead to place their orders (259-4746) to save time. We may be in changing times but the service and the quality of food served today has not changed in the past 60 plus years. The owners are also the operators, very important. There is a canopy to keep the hot summer sun off and tables to enjoy a picnic setting for the kids. Can life get better than this??? I think not. |
FEATURED LINK
Classic Pickups Are the Fastest Growing Collector Vehicle
Courtesy Hagerty.com
Filling the Generation Gap
Solving the "Classic" Car Question: Who and What's Next?
By Colby Martin
Can you believe that FM radio stations playing "oldies" now commonly include songs from the likes of Aerosmith, Journey and Madonna among their rotation? That chord was struck (pun intended) when I began realizing that I rarely heard the originators of rock 'n' roll on the usual play lists. You know, Buddy Holly, Chuck Berry and '50s-era Elvis tunes. This realization helped shape my gradual move away from terrestrial radio and into other methods of enjoying music. Like most others, I tend to bounce between a variety of musical genres based on the mood of the moment. I admittedly still get a bit hung up on labels that define a particular style. But, I feel very differently when it comes to my beloved automotive pastime. Maybe that's what a decade of working for a group like SEMA will do to a person. These days, I'm much more open minded to treatments outside my natural "wheelhouse."
Over the years, I've noticed a lingering anxiety among members of the car community regarding the makeup of the next generation of enthusiasts and what they will drive/collect? This growing concern is spurred by the notion that today's youngsters won't carry the torch forward. At my office, Next Gen (i.e. next generation) is the industry's buzz word for the topic and it appears constantly. The "what" part of the question is fairly easy to answer. As the cover story of this issue details, states continue to target vintage vehicles as revenue streams and contributors to smog. Vintage tin and donor parts have steadily become scarcer with time. While some of today's models could hold value as future collectors, there are also an assortment of well-made reproductions, recreations and innovations now available to suit anyone's taste. Want an early Ford roadster, a Tri-Five Chevy or even a Chrysler Hemi? These iconic offerings are available brand new again.
Now the "who" part of the question is obviously younger drivers, often referred to as Generation Y or Millennials. They are the successors to Generation X and are currently between the ages of 18 and 34 years old. By definition, I fall into this group, although those who know me will agree that I'm not very representative of the bunch. Call me old fashioned.
Many high-profile automotive media outlets have referenced a recent report from MTV about this emerging economic powerhouse. Contrary to popular belief, they too continue to see car ownership as a way to establish independence and shape their unique adult identity. In fact, 75% would rather give up social media for a day than their cars, and 72% said that they would rather give up texting for a week than their cars. This set uses social networks as virtual "online car clubs." With the Internet serving as host, these avenues are always open for impromptu vehicle-focused "meetings."
My peers and I came of age in a time of a rebounding domestic auto market, summer blockbuster films and video games. Each has had a distinct and long-lasting effect. In the '90s, supercar posters adorned pre-teen bedroom walls. The likes of the Dodge Viper, Corvette ZR-1, Acura NSX, Jaguar XJ220, Ferrari F40, Lamborghini Diablo and others deeply inspired this new car culture. In fact, the Viper is only two years away from turning 25. I've followed its development since the first concept images were made public. Others lusted for the late actor Paul Walker's '93 Toyota Supra from the film The Fast and the Furious. Released in 2001, an argument can be made that the film will be as generation-defining as previous iconic features like American Graffiti, Bullitt, Vanishing Point or Smokey & The Bandit. The myriad of popular driving simulator-style video games will be equally important in defining tomorrow's collectibles.
From my perspective, the future of this great hobby appears intact. Everyone can still create a dream car to suit their own specific taste. There is a renewed interest in the driving aspect of specialty cars these days, much to the delight of folks in my age bracket. So much fun can be experienced by touring, autocross, reliability runs, racing on a track and more. A lot of focus is now placed on a machine's handling too. Just look at the booming restomod trend, where modern technology—primarily powerplants and suspension components—is adapted to old iron. The recent musclecar resurgence has created new fanatics. Should we not protect these collector cars of the future, such as exciting recent offerings like the Chevy COPO Camaro, Dodge Challenger Hellcat and Nissan Skyline GT-R? I'm betting they'll have a following for many years to come.
While many car enthusiasts may not fully comprehend the current trends of Millennials, don't lose faith. These new enthusiasts will define the future of the auto hobby with new ideas and packing an even wider appreciation of what defines automotive perfection. And, if they're looking for inspiration from the past, the entire history of the automobile can be accessed using only their thumbs and a mobile device.
—IGNITED WE STAND! Courtesy SEMA Action Network
---
Car Hobby Divided on Vintage Vehicle Bills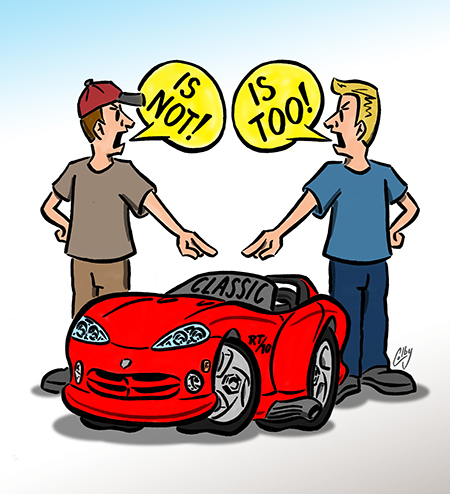 When it comes to older vehicles, the adage "one person's trash is another person's treasure" certainly applies. The variety of tastes within the automotive hobby ensures that just about any car or truck is desired by someone. In addition, the value attached to each four-wheeled specimen changes over time. However, because a car may be rare doesn't always mean that it is valuable. Many other factors, including current condition, prior refurbishment, pedigree, special options, limited packages and more must be considered as well.
After more than 100 years of automotive innovation, identifying factors that have earned certain vehicles "classic" status is increasingly relevant. A leading authority in the collector car community, the Antique Automobile Club of America, allows all vehicles 25 years old or older to be officially judged at national meets. In many states, vehicles that are 25 years old and older are eligible to receive a variety of benefits and accommodations. At the federal level, the Cash for Clunkers Program spared cars 25 years old and older from the scrappage heap and expanded parts recycling opportunities. Long-time readers will remember the SEMA Action Network's (SAN's) role in securing that amendment to the law.
Earlier this year, the Maryland and Nevada legislatures introduced legislation attempting to redefine which rides qualify for specialty registrations. Under the Maryland bill, the age requirement for vehicles eligible for registration as "historic motor vehicles" would have been raised from 20 to at least 30 years old. The law currently provides these vehicles certain benefits, including an historic license plate, reduced registration fees, and exemptions from equipment and emissions inspections. In Nevada, under pending legislation, only vehicles manufactured prior to '96 would be eligible for "classic vehicle" registration, denying future classics the opportunity to ever achieve this registration status. Currently, vehicles 25 years old and older are eligible. A separate bill to repeal the emissions test exemption for all classic vehicles, classic rods, street rods and old timers is also on the table. Under that bill, all vehicles manufactured before '96 would instead be exempted, meaning that all '96 and newer vehicles would be emissions tested for life.
| | |
| --- | --- |
| | |
| | One look at the BMW M3 above makes it tough to believe that this very ride is now 25 years old. For years, this model has garnered an enthusiastic following of car fans. The uniquely painstaking task of adapting modern technology into this particular vehicle, including a 6.2L GM V8 powerplant, was undertaken by owner/builder Kevin Byrd. |
| | --- |
These measures, and others like them, are the result of specialty registrations being granted to vehicle owners that "abuse" the privilege. You know what they are—daily drivers, commercial trucks and otherwise poorly maintained autos wearing a specialty tag. Supporters argue that these efforts attempt to restore the designation's inherent value. Most laws limit use of these cars and trucks to participation in car club activities, exhibitions, tours, parades and occasional pleasure driving. Many abusers commonly seek refuge in these designations after failing the required emissions test, diluting these categories with cars that the law was not intended to protect.
On the flip side, opponents believe that these proposals are not favorable to enthusiasts and make it more difficult to register legitimate historic vehicles. Over the past several legislative sessions, Marylanders have fought to retain the historic vehicle definition against restrictions that are based on unsubstantiated claims of abuse. The Maryland Motor Vehicle Administration is already authorized by regulation to suspend the registration of any historic vehicle for use that violates the law. The state also seems focused on collecting additional registration revenues at the expense of collector-car owners. Further, the population of these vehicles is still not enough to cause any significant smog issue in either state. It has been shown that classic vehicles currently constitute less than 1.6 % of the total vehicle population in Nevada!
| | |
| --- | --- |
| | |
| Now approaching age 25, cars such as this '93 Chevrolet Camaro Indianapolis 500 Pace Car are destined to become collectibles. | |
| --- | |
The SAN has chosen to oppose these bills in order to safeguard the greater good. SAN member Ramzi Vincent boiled down the issue in a letter to Maryland lawmakers: "Why penalize the many for the crimes of the few?" As an organization, we have always recognized the fact that the automotive community as a whole forms a diverse constituency. We believe that nobody's taste in cars and trucks should be compromised by legislation to the extent possible. The hobby will be best served by demonstrating that we share common goals and that we can work together to ensure that these designations will be available to younger enthusiasts entering the hobby in the years to come.
Only time will tell the outcome of these battles. Fortunately, Maryland's bill died when the legislature adjourned for the year. However, the fate of Nevada's proposals is still undecided at the time the Driving Force went to print. Courtesy SEMA ACTION NETWORK

—Cover illustration by Colby Martin
U.S. Congress Introduces Bill to Reform Ethanol Mandate
Legislation (HR 704) has been introduced in the U.S. House of Representatives to prohibit the sale of E15 (gasoline that is 15% ethanol) and eliminate the federal Renewable Fuel Standard's (RFS) mandate that 15 billion gallons of corn-based ethanol be blended into the U.S. fuel supply each year. The EPA has turned to sales of E15 to achieve the law's artificial mandate. Ethanol, especially in higher concentrations such as E15, can cause damage to older vehicles.
Please Contact Your Member of Congress (contact information below) to Request Support for HR 704
Ethanol can cause metal corrosion and dissolve certain plastics and rubbers, especially in older vehicles that were not constructed with ethanol-compatible materials.
HR 704 would eliminate the unrealistic mandates imposed under the RFS such as requiring refiners to blend 36 billion gallons of biofuels by 2022.
HR 704 would prohibit the sale of E15 gas in order to help meet the artificial RFS deadlines.
HR 704 would protect older vehicles from the risks posed by E15.
DON'T DELAY! Please contact your Member of Congress in Washington, DC immediately to request their support for RFS reform. Please email a copy of your letter to Eric Snyder at

erics@sema.org

. Also, please forward this Alert to your fellow automotive enthusiasts. Urge them to join the SAN and help defend the hobby! Thank you for your assistance.
Click here to find your U.S. Member of Congress
---